Euler Institute
St. Petersburg | Russia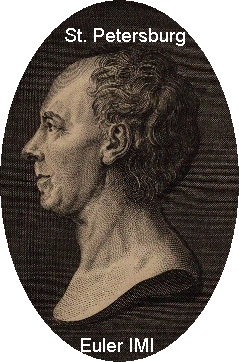 The Euler Institute has been established with the sole purpose of organizing academic events like meetings, conferences, workshops etc. Located in the city of St. Petersburg, this institute has been serving this purpose since 1988. Over the years the organization has constantly kept on upgrading its services keeping in mind the demand of changing times. Today the seminar halls and the conference rooms are equipped with the modern technologies and latest gadgets that are required to conduct an educational event. The proximity to the Pulkovo international airport makes it a preferred venue for the global events. The Euler Institute is located in the beautiful city of St. Petersburg so the delegates coming from abroad can also enjoy the beauty of the city.
How to reach
Exhibition Centre Information
Location: The Euler Institute is located close to the Pulkovo International Airport which serves the city of St. Petersburg.
Number of Halls: The Euler Institute consists of a number of seminar halls and conference rooms for organizing meetings, conferences and workshops.

Venue Address
Pesochnaya nab. 10,
St. Petersburg, Russia- 197022
Facilities
The Euler Institute is one of the most famous venues in Russia for conducting academic meetings and conferences. This institute provides the most advanced facilities for organizing an educational conference. The huge seminar halls and conference rooms can accommodate a large number of attendees. The technological amenities provided by this organization help to conducts the meetings and conferences uninterruptedly. High quality projection equipments, the audio and the video equipments ensure that the clients get a satisfactory experience and come back for the next time. The closeness to the Pulkovo international airport makes it the most convenient spot for hosting the international events.
Recommended Hotels near Euler Institute
Nearby Tourist Attraction
The city of St. Petersburg is surrounded bt innumerable tourist spots which attracts visitors from all over the world. Some of the famous tourist attractions of St. Petersburg are hermitage Museum, house of famous Russian personalities like Fyodor Dostoyevsky, Anna Akhmatova etc., the Russian Museum, Peter the Great Museum for Anthropology and Ethnography, Kuntskamera, central naval museum, zoological museum, railway museum, artillery museum, English gardens, St Petersburg Botanical Garden, Krestovsky Island, Yelagin island, Grand Cascade, the Tauride garden, Palace square, Petersburg Philharmolnia, Neva River, museum of water, Catherine palace, Kazan cathedral, Russian national library, Bronze horseman, Church of the Savior on blood, St. Michaelís Castle, Mariinsky palace and many more.
Euler Institute Events Calendar
| | | | | | |
| --- | --- | --- | --- | --- | --- |
| May 2013 | June 2013 | July 2013 | August 2013 | September 2013 | October 2013 |
Other Exhibition Center in St. Petersburg