Hotel Ambassador Pallava
Chennai | India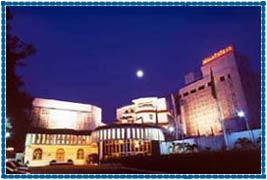 The Hotel Ambassador Pallava is situated in the centre of the business district. Hotel Ambassador Pallava is one of the top end 4 star hotels in Chennai that provides guests with the best of amenities possible from a hotel of this class. The Hotel Ambassador has been transforming corporate meeting into a memorable affair – with exceptional facilities and an experienced staff who is committed to the client's success. During the past years the hotel has hosted innumerable business conventions, meetings and expos due to its convenient mix of world class accommodations, tourist friendly atmosphere and thriving international airport and one can rely on the rated catering team that creates tantalizing meals.
How to reach
Exhibition Centre Information
Location: The Ambassador Pallava, a 4 - star hotel in the heart of Chennai, is located close to the business district, 10 minutes away from the railway station and 25 minutes from the airport. One can easily reach at the hotel as it is well connected with airport. The interested people can travel by bus or taxi from the airport to the venue they can also travel by their private vehicles as the venue provides parking space.

Venue Address
30, Montieth Road Egmore,
Chennai, India
Facilities
When we talk about the facilities one can make out that the Hotel Ambassador Pallava will the best option among the other choices. The Hotel Ambassador Pallava has been a prime location for the people looking for organizing the best ever meetings and event. The hotel provides the amenities and services like business centre, separate executive floor, executive lounge, banquet & conference facilities, beauty par lour, shopping arcade, health club, swimming pool, fax, 24 hrs coffee shop and room service. Business facilities include a well equipped business center with free wireless internet access (Wi-Fi) at business center, lobby area & banquet hall.
Recommended Hotels near Hotel Ambassador Pallava
Nearby Tourist Attraction
The major attractions near to the hotel are Marina Beach situated along a 12 kilometers shoreline in the city of Chennai, apart from it there is Spencer Plaza, Madras University, and the High court Complex. There is also a Guindy Race Course, a horse race course which can be very interesting for the people visiting Chennai. Chennai is renowned for its temples; one can really look for the oldest and most beautifully made temples here in Chennai. The entire town of Mahabalipuram is filled with temples with beautiful sculptures and bas reliefs. The pavilions or the Mandapas and the Chariot Temples or Rathas of Mahabalipuram are the main attractions of the Mahabalipuram Temples.
Hotel Ambassador Pallava Events Calendar
| | | | | | |
| --- | --- | --- | --- | --- | --- |
| May 2013 | June 2013 | July 2013 | August 2013 | September 2013 | October 2013 |
Other Exhibition Center in Chennai